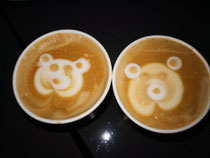 Nun bin ich schon einen ganzen Monat "off trail". Verbringe noch die letzten Tage in Vancouver und meine Gefühle schwanken von Überglücklich bis nachdenklich aber immer irgendwie positiv.
Es ist so surreal wenn ich die Bilder vom Trail anschaue.
Hab ich das wirklich alles gemacht? Gesehen? Erlebt? Bin ich wirklich von Mexiko bis Kanda gewandert?
Am ersten Abend als wir in Vancouver angekommen sind, musste ich mich als erstes für einige Tage von Gordon verabschieden. Er besuchte Familie und Freunde in Vancouver. Ich verbrachte ganz hiker-typisch noch eine Gratisnacht an einem sehr speziellen Vorgarten im Zelt. Zwei Deutsche hikers haben in der Wüste eine Frau kennengelernt die Ihnen angeboten hat, wenn sie in Vancouver ankommen in Ihrem Haus zu schlafen. Sie selber wären dann sicher nicht zu Hause, der Schlüssel sei aber dort und dort und sie können einfach reingehen.
Also fuhren wir als erstes dorthin und tatsächlich war der Schlüssel dort und wir gingen rein.
Drinnen erwartete uns allerdings ein muffiger Gestank und ein riesen Chaos, sodass wir uns entschieden, lieber draussen im Garten zu campen.
Als ich so in meinem Zelt lag, wieder mal total von meinen Gefühlen ueberwältigt, buchte ich den billigsten Flug den ich finden konnte irgendwo hin. Ich konnte mir nicht vorstellen einen ganzen Monat in Vancouver zu verbringen. Hawaii war übrigens der billigste Flug. Ich freue mich. War noch nie auf Hawaii und obwohl die Inseln erst gerade vom Hurricane "Lane" heimgesucht wurde ist das Wetter ist sicher besser als hier in Vancouver.
Einige Tage verbracht ich bei Freunden auf Vancouver Island. Ich hatte mein eigenes Zimmer und sogar Badezimmer. Wow das fühlt sich natürlich gut an aber irgendwie auch nicht ganz real. Dies ist nicht mein Leben...nicht mehr..... Ich glaube ich brauche echt Zeit um mich wieder an das "normale" Leben zu gewöhnen. Ich konnte all meine Kleider waschen und sagar meinen Rucksack und Schlafsack bekamen ihren ersten Waschgang in ihrem Leben. Dieser Dreck....unglaublich....
Bryce zeigte mir die Island mit seinen schnellen, gelben Porsche und Dianne kochte die besten Mahlzeiten seit ich die Schweiz verlassen hatte.
Nach Vancouver Island verbrachte ich einige Tage mit Gordon. Wir schauten uns die Stadt an, kauften uns "town clothes" in Thriftshops wohlbemerkt, gingen ins Kino und versuchten mit der Hektik und Lärm der Stadt zurecht zu kommen aber eben auch den Luxus zu geniessen.
Vancouver ist teuer! Ich suchte stets günstige Airbnb's und so landete ich in einen kleinen Vorort von Vancouver, in White Rocks, wieder in einem Garten am zelten.
Am vierten September flog ich dann nach Oahu, Hawaii. Kaum aus dem Flughafen raus, war ich echt beruhigt und positiv überrascht.. Es war viel wärmer als in Kanada.
Auch dort verbrachte ich die Nächte in einem Airbnb, diesmal aber in einem Zimmer. Hab nur das nötigste mitgenommen und meinen Rucksack in Vancouver deponiert über diese Zeit.
Viele kleine Wanderungen habe ich gemacht auf Oahu. Ich hab immer noch das Bedürfniss einfach zu laufen. Natürlich habe ich aber auch einfach den Strand genossen.
Ich bin froh nicht direkt vom Trail in mein normales Leben zurückzukeheren. Ich brauche genau diese Zeit für mich alleine.
Zurück wieder in Vancouver verbrachte ich wieder einige Tage mit Gordon. Wir nahmen an einem 10Km Lauf in der Stadt teil. Danach fuhren wir mit einem Miet-Auto nach Whistler und nochmals nach Manning Park. Weils so schön war, liefen wir gleich nochmals zum Monument...Nur so zum Spass...
Und dann war er da, der definitive Abschied von Gordon...meinem hiking buddy der letzten sechs Monaten. Es war ein tränenreicher Abschied. Wir haben so viel zusammen erlebt und durchgemacht.
Ich bin so dankbar, dass ich gerade ihn getroffen habe. Es hat einfach gepasst.
Für die letzten paar Tage vor meinem Rückflug in die Schweiz habe ich das günstigste Hostel in Downtown Vancouver gebucht. Also ich bin ja nun wirklich nicht anspruchsvoll und für elf Dollar die Nacht inmitten vom Downtown kann man ja sicher auch nicht allzuviel erwarten, aber ...naja sagen wir Mal so, auf dem ganzen Trail hatte ich mehr Luxus als jetzt.
Zum duschen gehe ich jedenfalls ins Schwimmbad.....
Aber auch das stehen wir jetzt noch durch....
Ich freue mich auf die Schweiz aber ich weiss auch das ich dieses Abenteuer so unglaublich fest vermissen werde. Ich werde aber immer wieder, wenigstens in Gedanken, zurückgehen können. Der Trail hat mich so vieles gelernt und er wird mein ganzes weiteres Leben beeinflussen …
Ich werde:
Nichts mehr planen (es kommt eh anders)...
Werde mein Leben lang jeden einzelnen Rucksack-Touri der den Daumen am Strassenrand raushält mitnehmen...
Allen einen nervigen Vortrag halten, die das Wasser während des Zähneputzens laufen lassen...
Werde mich lieben lassen von den Menschen die mich lieben wollen...
Werde geduldiger sein....Es kommt alles zu dir wenn es Zeit dafür ist....
Irgendwann wirst Du wieder Wasser finden...
Irgendwann wird es aufhören zu regnen und du kannst Deine Sachen trocknen...
Irgendwann wirst du wieder Nahrung haben...
Irgendwann kommt die Sonne wieder raus und du kannst Dich an ihr wärmen...
Irgendwann wirst du wieder einen Schattenplatz finden...
Irgendwann kannst du vielleicht sogar wieder duschen... 
Irgendwann kommt alles zu dir....
Mir keine Sorgen mehr machen (es bringt ganz einfach nichts)…
Ich werde versuchen die erlebte Gastfreundschaft weiterzugeben...
Ich werde immer die Windrichtung checken bevor ich mich in eine Freiluft-Toilette setze...Ja, auch als Frau sollte man das tun...
Und nun eine kleine Omage an die USA und die Menschen dort...
Eine unglaubliche Gastfreundschaft habe ich erleben dürfen in der USA.
Menschen die wildfremde, stinkende thru hiker in ihrem Auto mitnehmen, in ihrem Haus schlafen lassen, für sie kochen, ihnen Wasser in die abgelegensten Ecken des PCT's transportieren (Water cashes) ect...
Viele Europäer finden ja, dass die Amis oberflächlich seien.
Vielleicht sind sie aber einfach nur freundlich und um einiges offener als wir.
So hab ich jedenfalls die Amis erlebt.
Ich will mir von der Freundlichkeit, Offenheit und Gastfreundschaft jedenfalls eine ganz dicke Scheibe abschneiden.
Es waren meistens genau diese Menschen mit den kleinsten Autos, den meisten Kindern und Gepäck die alles daran setzten uns mitzunehmen.
Wie halt im normalen Leben auch, die Ärmsten sind am grosszügigsten. (Ich kann das beurteilen nach zehn Jahren Gastgewerbe wenn ich da so ans Trinkgeld denke...)
Danke für eure Gastfreundschaft und Hilfsbereitschaft.
Und Gordon...Danke...
Danke, dass du mich in jeder Situation ertragen hast..
Danke, dass du mir über unzählige, reissende Flüsse geholfen hast...
Danke, für die vielen Lacher, gerade wenn ich sie am meisten brauchte...
Danke, für die ruhigen "hot chocolates" die wir auf irgend einen Felsen tranken
Danke, für die Unterstützung wenn mein Englisch wieder Mal nicht reichte...
Danke, dass du zu meinem "post hole" zurückgekommen bist...
Danke, für's Navigieren...
Danke, für deine Ehrlichkeit...
Danke, für deine Freundlichkeit...
Danke, für deine Grosszügigkeit...
Danke, dass du immer so zufrieden und glücklich bist...
Danke, für die vielen "Australians secrect recipes"
Danke, dass du die " Swiss secrect recipes" überlebt hast...
Danke, für die vielen "do you know who I am?"
Danke, für die vielen "Catwalks" auf dem trail
Danke, für die vielen, tollen Bilder die du von mir gemacht hast....UNBEZAHLBAR
Danke, dass du mich nie belehren wolltest, trotz deiner Erfahrung...
Danke, dass du alles mit mir geteilt hast...
Danke, dass du das Moskitonetz in meinen Rucksack geschmuggelt hast....
Danke, für all die m&m's  und Blumen die manchmal einfach auf dem Trail lagen...
Danke, für die vielen Pepsi Max und Ice creams...
Danke, dass du die "emergency peanut butter" die ganze Zeit  für  mich mitgetragen hast..seit Warner Springs?!
Danke, dass du einem besseren Menschen aus mir gemacht hast... 
Danke für ALLES...
You made my PCT!!!
Und das Gedicht welches du für mich geschrieben hast "preicht mi mitz a Gring" thank you.
Trailfamily for life!!!
A Writing About A Beautiful Girl Walking To  Her New Self 
I found her in the wilderness, Searching 
In the solitude of the Wild 
Looking to live her dream 
She found new meaning in the mountains 
Obtained new direction from navigating the myriad of different trail options 
Gained new knowledge and experience from the challenging terrain 
Became more resilient from the tough climatic conditions 
Derived greater and intimate understanding of her bodies capabilities 
And as spring turned to summer 
And the sun warmed her skin 
Each river brought her soul refreshment 
Each meadow brought her heart peace 
Showed her their simple joy  
Of something her grandfather said: 
"You have never really been somewhere until you have walked there yourself" 
And at the end of her 2650 mile journey 
In the journal of her heart 
"You were so right Grandfather" 
Written by an Australian Hiking Partner .... PCT 2018
---
***ENGLSIH***ENGLISH***ENGLISH***ENGLISH***ENGLISH***ENGLISH***ENGLISH***ENGLISH***ENGLISH***
---
Emotions off trail...
I already spent one month "off trail" now.
It still feels weird. And my emotions switches from happy to thoughful but always in a positiv way.
When I'm looking back at all my pictures it feels sometimes really surreal.
Did I do all this? Have I really seen all this? Is it really over now? How the hell could I do this for month? Did I really walk from Mexico to Canada?
On the very first day in Vancouver I had to say goodbye to Gordon for a few days. He was visiting family and friends. I spent my first night hiker like in a backyard from a crappy house.
There were two Germans which met a women back in the desert which offered to them when they reach Canada to sleep in her house. They wouldn't be home at this time but the told them where the keys are to find. So, we checked this place out, we found the keys, went inside and were shocked....
What a mess...the air was musty and it was very dirty.
We rather camped outside in the garden. But that was totally fine....I mean it was another free night in Vancouver....
But as I lay in my tent at night. Totally overwhelmed from my feelings I checked flights to anywhere.
I just couldn't imagine to stay one month "just" in Vancouver.
By the way, Hawaii was the cheapest flight I could found. It was just floatet from the hurricane "Lane"  but the weather must be better than in Vancouver. (Well, this is not too hard)
Some days I spent with friends on Vancouver Island. I had my own bed- and even bathroom. What is this.?
I'm no more used to it.
What not means it wasn't nice of course but I don't know this anymore...
I could finally wash all my clothes and gear.
Even my sleeping bag and my backpack had their first wash ever. This dirt....unbelievable....
Bryce showed me the Island by his fast, yellow Porsche and Diane cooked the best meal I had since I left Switzerland.
After my Island trip I spent some more days with Gordon. We checked out the city and of course the thriftshops for some town clothes.
We enjoyed some good meals, went to the movies and were trying to get used again to all this hectic and noise from the city.
Vancouver is expensive, so I was always checking out the cheapest Airbnb's in town. So, I landed by camping in a backyard again in a Suburb from Vancouver.
On the fourth of September I flew to Oahu, Hawaii. I was relaxed as soon as I left the airport. It was much warmer than in Vancouver.
Oahu is a beautiful Island.
I did many hikes. I still feel like I have just to walk the whole day. What are other people doing?
Of course I also enjoyed the remote, white sanded beaches.
Also on Oahu I stayed in a Airbnb. In a room for once though. I stored my big backpack in Vancouver and traveled really light to Hawaii.
I'm glad that I've got some time just for me before I return to Switzerland in my normal life. I really need this.
Back in Vancouver I spent again some days with Gordon. We joined a 10 km. Run in the city and drove up to Whistler by car. Then we decided to go again to Manning Park and walk to the Northern Terminus again...just because it was so nice.
And then it was time to say goodbye. It was sad of course but I'm just really happy that I met Gordon.
We had suck a good time together.
We have seen and experienced so much...Everything just fitted very well.
For the last couple of days I booked the cheapest hostel in downtown Vancouver. I didn't expected a lot and I'm not demanding at all but.....well, let's say I had more luxury the whole trail long.
Anyway....I go to an Indoor swimming pool for a shower....
I'm looking forward for Switzerland, but the same time I already know that I will miss the trail and the adventure so bad. I can always go back though, at least in my thoughts.
I learned a lot from the trail and those experiences will affect my upcoming life.
Then I will:
Never plan again anything (There's just no way to plan life)
I will give rides to any backpacker I'll ever see standing on a road, for the rest of my life...
I'll give an annoying talk to everybody who leaves running the water while brushing his teeths. (Please just don't do that)
I will let people love me if they want to...
I will be more patient...everything arrives when it's time for.....
One day you will find water again...
One day it will stop raining and you can dry out your clothes and gear...
One day you will have some food again...
One day the sun will come out again and you can warm up yourself...
One day you will find a shady place again...
Maybe one day you will even have a shower again...
Everything arrives when it's time for...
I will no more worry about anything (there's just no sense to do that)
I will try to give back some of the hospitality I experienced on the trail I will always check the wind directions before I pee in the forest...(yes also as a girl you should do this...)
And now a little Omage for the USA and their citizen:
An incredible hospitality I have been allowed to experience in the USA.
People who took wildly strange, stinking thru hiker in their car, let them sleep in their house, cook for them, transport them water to the most remote corners of the PCT (water cashes) and so on...
Many Europeans say that the Americans were superficial. Maybe they're just kind and more open than we are. At least this is how I experienced the Americans.
Mostly the people with the smallest cars, most kids and luggage tried to fit us in their cars.
Just like in normal life, the poorest are the most generous. (Believe me, I can judge this after ten years of hospitality service when I think about tipping...)
Thank you America for all your great hospitality, openness, kindness and generosity...
And Gordon just thank you....
Thank you for bearing me in every situation..
Thank you for helping me over countless rivers...
Thanks, for the many laughs, just when I needed them most...
Thanks, for the quiet ' hot chocolates ' we drank on some rocks...
Thanks, for the support, if my English wasn't good enough...
Thank you for coming back to my ' post hole '...
Thanks, for navigating...
Thank you for your honesty...
Thank you for your kindness...
Thank you for your peacefulness...
Thank you for your generosity...
Thanks, for the many  "Australian Secret recipes "
Thank you for surviving the Swiss secret recipes...
Thank you, for the many  "Do you know who I am?"
Thanks, for the many  "catwalks " on the trail
Thanks, for the many great pictures you have made of me.... Priceless...
Thank you for never wanting to teach me, in spite of your experience...
Thank you for sharing everything with me...
Thank you for smuggling the mosquito net into my backpack....
Thank you for all the M&M's and flowers that sometimes just lay on the trail...
Thanks you for the many Pepsi Max and ice creams...
Than you for carrying the "emergency peanut butter"  for me all the way from Warner Springs to Canada...
Thank you for making me a better person... 
You made my PCT!!!
And the poem you wrote for me just pictures my trail perfectly...Thank you.. Trailfamily for life!!!
A Writing About A Beautiful Girl Walking To  Her New Self 
I found her in the wilderness, Searching 
In the solitude of the Wild 
Looking to live her dream 
She found new meaning in the mountains 
Obtained new direction from navigating the myriad of different trail options 
Gained new knowledge and experience from the challenging terrain 
Became more resilient from the tough climatic conditions 
Derived greater and intimate understanding of her bodies capabilities 
And as spring turned to summer 
And the sun warmed her skin 
Each river brought her soul refreshment 
Each meadow brought her heart peace 
Showed her their simple joy  
Of something her grandfather said: 
"You have never really been somewhere until you have walked there yourself" 
And at the end of her 2650 mile journey 
In the journal of her heart 
"You were so right Grandfather" 
Written by an Australian Hiking Partner .... PCT 2018